About Us
We at J's Asian Kitchen, are dedicated to serving you a variety of world-class Asian cuisine in Fredericton. Our dishes are rich with exotic spices and delectable to every taste bud.
Order from J's Asian Kitchen today! Try the Shrimp Square Sushi, Spicy Bulgogi, Crazy Crab Roll or our Pad Thai.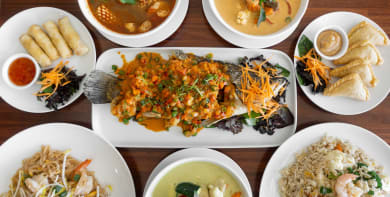 Reviews
"Amazing food, and they take the time to add names we provide on the order to packaging which is super helpful!"
"Wonderful as always! The only thing is I sometimes get the wrong sauce when I ask for extra J'S sauce, and it happened today. But still very good!"
"Thank you so much for the extra four piece sushi! I love your sushi so much. It's the best I've had so far."
"J's is consistently some of the best food in Fredericton hands down."
"The assorted sushi tasted so fresh and delicious! And the presentation was very pretty :)"
"Everything tasted amazing, well presented and fantastic quality.."
"thanks for the extra surprise treat!"
Our Locations
Fredericton
366 Queen St, Fredericton, NB E3B 1B2, Canada, Fredericton, E3B 1B2
Opening Hours
| | |
| --- | --- |
| Monday | 11:30 AM - 9:15 PM |
| Tuesday | Closed |
| Wednesday | Closed |
| Thursday | 11:30 AM - 9:15 PM |
| Friday | 11:30 AM - 9:15 PM |
| Saturday | 11:30 AM - 9:15 PM |
| Sunday | 11:30 AM - 9:15 PM |
Delivery times may vary
We deliver to:
E3A, E3B, E3C, E3E, E3G, E6C
Fredericton
146 Main St, Fredericton, NB E3A 1C8, Canada, Fredericton, E3A 1C8
Opening Hours
| | |
| --- | --- |
| Monday | 11:30 AM - 9:15 PM |
| Tuesday | 11:30 AM - 9:15 PM |
| Wednesday | 11:30 AM - 9:15 PM |
| Thursday | 11:30 AM - 9:15 PM |
| Friday | 11:30 AM - 9:15 PM |
| Saturday | 11:30 AM - 9:15 PM |
| Sunday | 11:30 AM - 9:15 PM |
Delivery times may vary
We deliver to:
E3A, E3B, E3C, E3E, E3G, E6C, E6L