About Us
We at J's Asian Kitchen, are dedicated to serving you a variety of world-class Asian cuisine in Fredericton. Our dishes are rich with exotic spices and delectable to every taste bud.
Order from J's Asian Kitchen today! Try the Shrimp Square Sushi, Spicy Bulgogi, Crazy Crab Roll or our Pad Thai.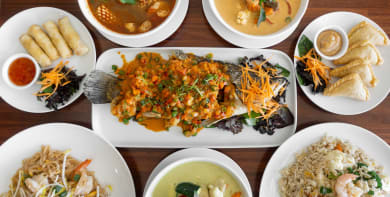 Reviews
"Food was hot when it arrived. Delicious"
"We keep forgetting to ask for chop sticks ;)"
"The wasabi was not "spicy" the way it is usually. But the food was really good and great value for money! I always keep ordering again and again specially the sesame balls."
"loved the little gift. thank you?"
"Food was a little salty but still good"
"Always goes above and beyond"
"extra lil present for mother's day was a nice treat! thank you! food was amazing"
"Amazing every time thanks :)"
"My order was cold by the time it arrived, but I warmed it up and it's delicious. Thank you!"
"Js Asian kitchen is always best!!! The food is always amazing! Best food I've had in a long time"
Our Locations
Fredericton
366 Queen St, Fredericton, NB E3B 1B2, Canada, Fredericton, E3B 1B2
Opening Hours
| | |
| --- | --- |
| Monday | 11:30 AM - 9:15 PM |
| Tuesday | Closed |
| Wednesday | Closed |
| Thursday | 11:30 AM - 9:15 PM |
| Friday | 11:30 AM - 9:15 PM |
| Saturday | 11:30 AM - 9:15 PM |
| Sunday | 11:30 AM - 9:15 PM |
Delivery times may vary
We deliver to:
E3A, E3B, E3C, E3E, E3G, E6C
Fredericton
146 Main St, Fredericton, NB E3A 1C8, Canada, Fredericton, E3A 1C8
Opening Hours
| | |
| --- | --- |
| Monday | 11:30 AM - 9:15 PM |
| Tuesday | 11:30 AM - 9:15 PM |
| Wednesday | 11:30 AM - 9:15 PM |
| Thursday | 11:30 AM - 9:15 PM |
| Friday | 11:30 AM - 9:15 PM |
| Saturday | 11:30 AM - 9:15 PM |
| Sunday | 11:30 AM - 9:15 PM |
Delivery times may vary
We deliver to:
E3A, E3B, E3C, E3E, E3G, E6C, E6L