About Us
We at J's Asian Kitchen, are dedicated to serving you a variety of world-class Asian cuisine in Fredericton. Our dishes are rich with exotic spices and delectable to every taste bud.
Order from J's Asian Kitchen today! Try the Shrimp Square Sushi, Spicy Bulgogi, Crazy Crab Roll or our Pad Thai.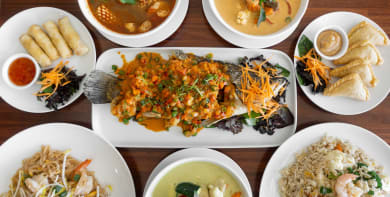 Reviews
"Several dishes has too much salt - Japchae and the Vermicelli. Otherwise it was good."
"Excellent as always. Stay safe tonight, getting home."
"Always sooooooo good!!!"
"thank you for the free veggie spring rolls! a nice surprise for the birthday girl ⭐"
"Pork ramen broth tasted more watered down/less flavourful than it has in the past."
"The salmon rolls taste grate the sushi squares tasted like burnt plastic or chemicals very gross"
"Thank you for the treat it was excellent"
Our Locations
Fredericton
366 Queen St, Fredericton, NB E3B 1B2, Canada, Fredericton, E3B 1B2
Opening Hours
| | |
| --- | --- |
| Monday | 11:30 AM - 9:45 PM |
| Tuesday | Closed |
| Wednesday | 11:30 AM - 9:45 PM |
| Thursday | 11:30 AM - 9:45 PM |
| Friday | 11:30 AM - 9:45 PM |
| Saturday | 11:30 AM - 9:45 PM |
| Sunday | 11:30 AM - 9:45 PM |
Delivery times may vary
We deliver to:
E3A, E3B, E3C, E3E, E3G, E6C
Fredericton
146 Main St, Fredericton, NB E3A 1C8, Canada, Fredericton, E3A 1C8
Opening Hours
| | |
| --- | --- |
| Monday | 11:30 AM - 9:45 PM |
| Tuesday | 11:30 AM - 9:45 PM |
| Wednesday | 11:30 AM - 9:45 PM |
| Thursday | 11:30 AM - 9:45 PM |
| Friday | 11:30 AM - 9:45 PM |
| Saturday | 11:30 AM - 9:45 PM |
| Sunday | 11:30 AM - 9:45 PM |
Delivery times may vary
We deliver to:
E3A, E3B, E3C, E3E, E3G, E6C, E6L