About Us
We at J's Asian Kitchen, are dedicated to serving you a variety of world-class Asian cuisine in Fredericton. Our dishes are rich with exotic spices and delectable to every taste bud.
Order from J's Asian Kitchen today! Try the Shrimp Square Sushi, Spicy Bulgogi, Crazy Crab Roll or our Pad Thai.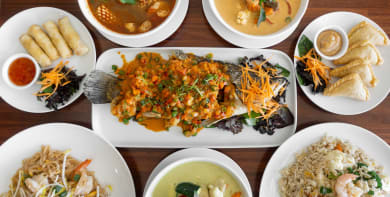 Reviews
"Always amazing!! One of my favourite places to eat in Fredericton"
"food so good im gonna cry happy tears......... thank you."
"Missing wasabi and ginger"
"The food tasted so good. I didn't like the soy sauce though. I loved the curry rice bowl, gyoza and the Nanaimo bar so much. There are out of the world delicious! ?"
"Thank you! Happy Holidays!"
"love the fire chicken fire ? ?"
"Spicy beef ramen was amazing!"
"I always look forward to my J's order. I don't get to treat myself often anymore, but this is always where I choose!"
Our Locations
Fredericton
366 Queen St, Fredericton, NB E3B 1B2, Canada, Fredericton, E3B 1B2
Opening Hours
| | |
| --- | --- |
| Monday | 11:30 AM - 9:15 PM |
| Tuesday | Closed |
| Wednesday | Closed |
| Thursday | 11:30 AM - 9:15 PM |
| Friday | 11:30 AM - 9:15 PM |
| Saturday | 11:30 AM - 9:15 PM |
| Sunday | 11:30 AM - 9:15 PM |
Delivery times may vary
We deliver to:
E3A, E3B, E3C, E3E, E3G, E6C
Fredericton
146 Main St, Fredericton, NB E3A 1C8, Canada, Fredericton, E3A 1C8
Opening Hours
| | |
| --- | --- |
| Monday | 11:30 AM - 9:30 PM |
| Tuesday | 11:30 AM - 9:30 PM |
| Wednesday | 11:30 AM - 9:30 PM |
| Thursday | 11:30 AM - 9:30 PM |
| Friday | 11:30 AM - 9:30 PM |
| Saturday | 11:30 AM - 9:30 PM |
| Sunday | 11:30 AM - 9:30 PM |
Delivery times may vary
We deliver to:
E3A, E3B, E3C, E3E, E3G, E6C, E6L